20.04.2019,- The Hollies – präsentiert von WDR4 BOCHUM, RuhrCongress Bochum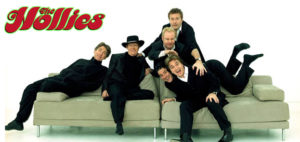 The Hollies – präsentiert von WDR4 & 3dog entertainment – dedicated to music, Samstag, 20.04.2019 20:00 Uhr RuhrCongress Bochum
"No support act is needed as The Hollies perform their Classics"
The Air That I Breathe, Carrie Anne, Jennifer Eccles, Bus Stop,
Just One Look, Stop, Stop, Stop, On A Carousel, Long Cool
Woman (In A Black Dress), He Ain't Heavy He's My Brother
and many more hits in a brilliant two-hour Hollies celebration.
Interesting fact:
Since their inception, The Hollies have toured each and every year
for over 50 years and continue to perform to sell-out concerts around the world to this day.
As major players in the magnificent 1960's British Pop Revolution – a time when British bands first conquered the world, The Hollies hallmark vocal harmony has not wavered throughout 50 Years of continuous touring, performing and recording. From 1963 through to the mid-70's, the Hollies had more hits than even the Beatles – In that period alone they had 18 Top ten hits. 'Long Cool Woman (In A Black Dress)' – No1 in the US charts in 1972. 'The Air That I Breathe' topped the UK charts in 1974 and 'He Ain't Heavy' hit the top spot in 1988.
At the heart of The Hollies, one of Britain's best loved groups, are the integral, original members – powerhouse drummer Bobby Elliott and singer, songwriter and lead guitarist, Tony Hicks. Their soaring, distinctive harmonies, brilliantly crafted songs, and cultivated musicianship, coupled with The Hollies extensive back catalogue of memorable tunes, have ensured the longevity of one of our greatest Pop/Rock bands whose music remains fresh, dynamic and timeless. Recently, the band played to sellout audiences across Australia and New Zealand. During the Spring and Autumn of 2016, The Hollies will be performing in theatres throughout the UK. Germany's Bonn Beethoven Halle and Oslo's Concert Hall in Norway are included in their tours of Europe and Scandinavia. Dates in the USA and DownUnder have yet to be announced.
With Ivor Novello Awards for 'Outstanding Contribution to British Music' to their name and induction into the prestigious American Rock n' Roll Hall Of Fame – 'For their Impact on the Evolution, Development, and Perpetuation of Rock n' Roll'. There is no doubt The Hollies helped shape the Pop and Rock industry as we know it and continue to perform with pride and passion around the world.
Infos